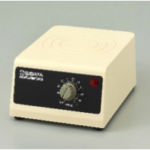 O2. MG-510, 1L
Description
Magnetic stirrers are preferred over gear-driven motorized stirrers for they are quieter, more efficient, and have no moving external parts to break or wear out (except the simple bar magnet itself).
The stir bars work well in glass vessels commonly used for chemical reactions, as glass does not appreciably affect a magnetic field.
Feature
▍Light Weight
▍Compact Size
Description
※ The voltage could be modified according to user's request.