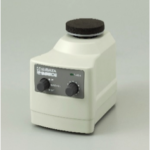 Q1. TTM-1
Mixer for Test Tube
TTM-1
Description
Neoprene sponge rubber is used as head rubber. You have only to press it slightly to fit it.
Both touch operation (touch starting) and continuous operation (with speed control) are possible. Stirring and mixing are possible for various kinds of test tubes and small-capacity flask.
Feature
▍Low Noise
▍High Stability
Description
※ The voltage could be modified according to user's request.